UGREEN has unveiled its latest model for the HiTune T earbuds series, the HiTune T3 ANC. At first glance, the design is like a combination of the best features of HiTune T1 and HiTune T2. It uses silicon ear tips which we've seen on the HiTune T1 and a bulkier and more rounded case as well as a simpler stem which we have seen on the HiTune T2. However, a key feature that already sets the HiTune T3 apart from its predecessors is that it comes with Bluetooth 5.2 and an active noise cancellation technology.
UGREEN HiTune T3 ANC TWS Earbuds
Specification
| | Left |
| --- | --- |
| Model | WS106 |
| Bluetooth | 5.2 |
| ANC Range | -25dB |
| 3 EQ Modes | ANC, Ambient, Normal |
| Codecs | AAC, SBC |
| USB Port | USB Type-C |
| Battery Type | Li-Po |
| Battery Usage | 7 Hours / 24 Hours W/ Case |
| Profiles | HSP, HFP, AVRCP, A2DP |
Active Noise Cancellation: Ambient sounds disappear to leave you with nothing but pure sound.
Advanced Bluetooth 5.2: Create a strong connection for skip-free audio with Bluetooth 5.2 Technology.
AI-enhanced Call Noise Reduction: Filter out unwanted background noises in real-time for phone calls that feel like you're talking face-to-face.
10mm Dynamic Driver: Infuses your music with sublime depth and punch Up to 24Hrs total playback: Charge for 10 minutes, listen for 1 hour.
UGREEN HiTune T3 Touchpad Functions
Package Content
Where to buy:
| | |
| --- | --- |
| Check Pricing on Shopee | Check pricing on Lazada |
Unboxing – UGREEN HiTune T3 ANC TWS Earbuds
The HiTune T3 has a fairly simple packaging which in a way, gives a premium feel. There's a plastic hinge on the side that you can pull to reveal the content of the package. Furthermore, there's nothing much to show about its packaging that we haven't already stated above such as product function and specification.
Taking out all the contents, the package includes a safety guide, a user manual, a USB Type-C cable for charging, and an additional 3 pairs of silicone earbuds.
Taking the case out, the earbuds are snugly fitted inside. The outer case is made of hard plastic with a glossy surface. Inside the case, you will find some specifications pertaining to the capacity of the charging case as well as both earbuds. Lastly, there's a button below the case next to the USB-C port that's used to reset the earbuds and unpair them from any devices.
Closer-Look – UGREEN HiTune T3 ANC TWS Earbuds
The HiTune T3 earbuds take the silicone ear tips design which we definitely prefer over the design of HiTune T2 which is a semi in-ear. It also boasts a slimmer and lighter design that reduces fatigue for wearing it over long periods of hours.
Here's a close side-by-side comparison between the HiTune T2 and HiTune T3. Notice how the stem of the earbuds is shorter and the drivers are positioned closer to the inner piece of the earbuds? This is definitely a more comfortable design overall and the use of silicone ear tips enhances the overall sound quality of the earbuds.
Performance – UGREEN HiTune T3 ANC TWS Earbuds
In this section, we test the earbuds in terms of sound quality, microphone quality, gaming performance, and functionality.
Sound Quality
The HiTune T3 comes with 3 different modes namely Normal, Active Noice Cancellation, and Ambient mode where the latter mimics the noise generated by your environment while you listen to whatever sound you are listening too. This mode is great for those that are travelling by means of walking so one can always be cautious and aware of his/her surroundings.
Out of the box, the sound quality is great. Bass is decent, not that strong but surprisingly decent. It has a mellow punch in the bass but it checks out all the boxes on the board for mid-tones and highs. Sound details are crisp and solid although somehow it baffles our mind since it has a decent bass yet we end up searching or wanting that punch from such bass. Other than that, the sound quality overall is great. No muddy or muffled sound.
Microphone Quality
To test the microphone quality, we made a short recording using the microphone of the HiTune T2.
If you listen to our recording, you'll notice that our voice is solid and crisp. In this recording, we also placed two electric fans beside us to generate ample environmental noise. Overall, the microphone quality of the HiTune T3 is surprisingly excellent. Our voice was crisp without any static noise or issues with the connection at all.
Additionally, we also made a recording using the active noise cancellation mode.
When we recorded this recording while in ANC mode, we made sure that our surroundings are generating enough noise that can be heard over the microphone which includes two electric fans, a television, and typing noise. Surprisingly, none of these noises got recorded and as we listen to our recording, we couldn't even hear the noises at all. We suspect that the filtering of these noises is due to the built-in noise-canceling microphone feature that the HiTune T3 has.
Once we turned the Ambience mode, we can clearly hear the noises around us. This is excellent for listening to music or podcast as we walk or drive.
Functionality
The HiTune T3 features functionality that one would expect it to have such as touch controls, 3 modes, and support for Siri, Alexa, and Google Assistant. Unfortunately, it doesn't work on Windows to enable or activate Cortana.
Mono and Twin Mode
Unfortunately, features such as mono and twin mode that we have seen from the HiTune T2 was not carried over to the HiTune T3. You can, however, still use a single piece of the earbuds to listen to your sounds but you cannot use each earbuds or pair each to different devices.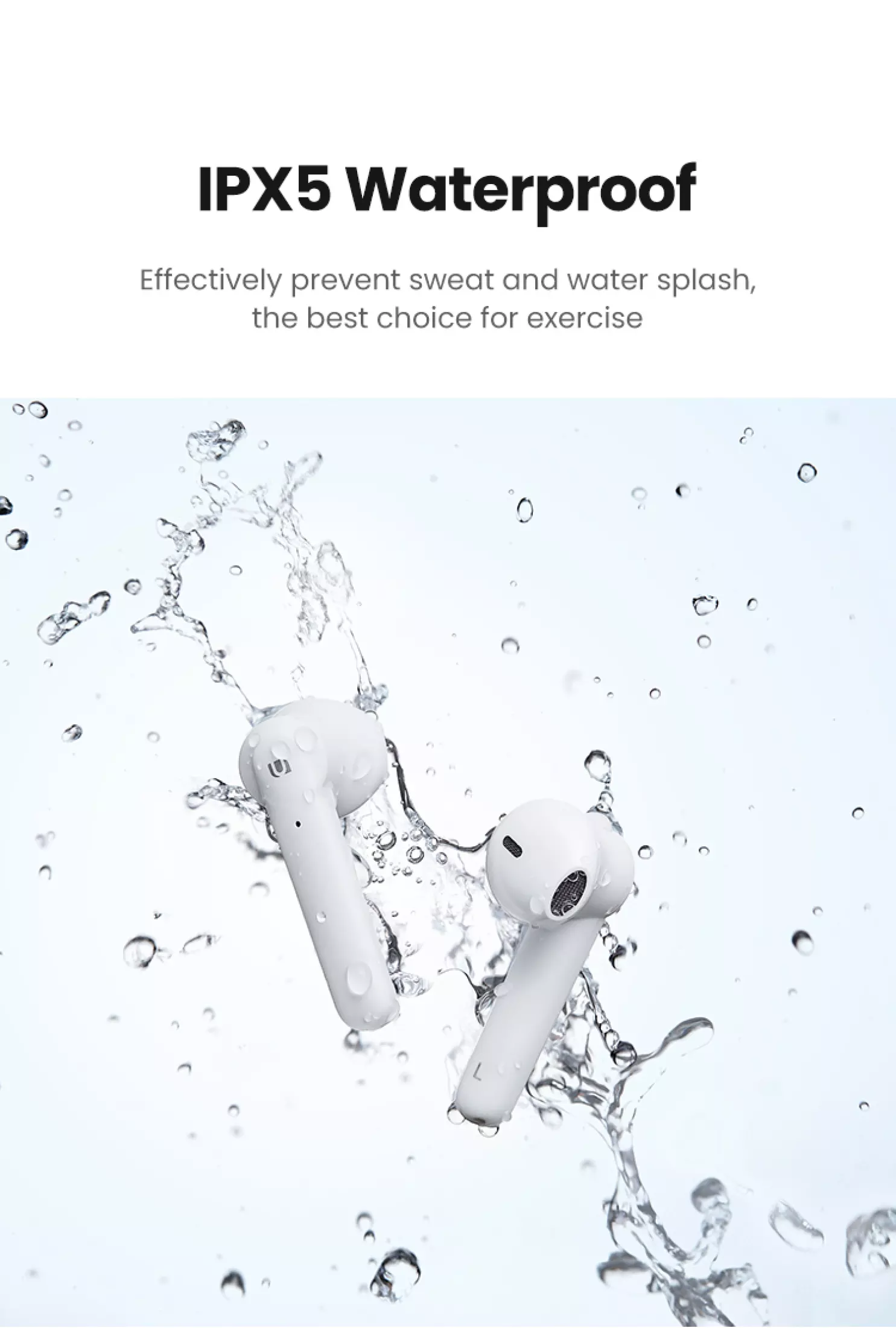 For those on the go and with an active lifestyle, the HiTune T3 comes with an IPX5 ingress protection rating. To explain the IPX rating, you can refer to the image below.
App Configuration and Wireless Charging
Unfortunately, the HiTune T3 doesn't support this. Although, it would be great though if we can control the configuration via the smartphone app.
Gaming Performance
According to UGREEN, the HiTune has a peak latency of 180ms which isn't ideal for gaming. However, we tested the earbuds on various game titles such as New World, Overwatch, and more. Surpringsily yet again, the HiTune T3 can deliver. Sure, the latency is there but it's at the point where you can barely tell at all. If you listen closely and observe the audio coming out from the action you are performing in the game, you will definitely notice the latency but for games that can be forgiving such as casual games, you'll barely notice the latency at all.
So overall, it's decent for casual games but not recommended for competitive titles where the difference in sounds contributes to the skills of a player. For such cases, we highly recommend checking out the HiTune X5.
Final Thoughts…
All in all, the HiTune T3 is a decent earbud. It's not something that one would consider as a 3rd generation but more like a 3rd option for the HiTune T series. In close comparison, all HiTune T earbuds come with features that the others do not have. Thus the reason why we do not consider the HiTune T3 as a 3rd generation. Depending on your preference and needs, you might be better with the HiTune T2 or T1 in some cases. Nonetheless, the HiTune T3 delivers. The unique feature that sets itself apart is the support for active noise cancellation at an affordable price point and a design that's very comfortable to the ears. Its 3 EQ modes make ANC and Ambient modes a breeze to use and switch on too whenever the situation calls for. Speaking of ANC, it's quite surprising how much noise the ANC feature of the earbud can filter. Don't expect miracles though like filtering noises of constructions or vehicles. By far, it's performing well.
In terms of gaming, it's decent enough earbuds for casual non-competitive gaming. It can perform and deliver well on titles such as overcook, It Takes Two, and casual Android games but it fails to keep up once things become fast and competitive. Especially where the sound of a footstep can differentiate the winners from the losers.
With excellent sound quality, superb microphone quality, and features that target certain preferences, the HiTune T3 is a highly recommended earbud from us. Especially for those that desire excellent earbuds that don't break the bank, uncompromised quality,  active noise quality technology at its finest, and features that provide different kinds of immersive experiences. We also loved how there are 4 pairs of ear tips available but we highly recommend getting yourself foam ear tips instead.
If you have any questions or suggestions, do hit us up in the comment section below:
Related Articles:
Review – UGREEN HiTune T3 ANC TWS Earbuds
Final Thoughts
UGREEN has yet offered another earbud on the HiTune T series, the HiTune T3. This earbud features ANC that its predecessors do not have. With an affordable price range, the HiTune T3 might just become the king of affordable ANC earbuds.
Pros
Build Quality
Sound and Microphone Quality
Ergonomic and Comfortable design
Active Noise Cancelling
Noise Cancelling Microphone
Ambient Mode
Bluetooth 5.2
Cons
No App Support
No Equalizer
No AptX Support
No Gaming Mode | High Latency for Games