My other Monter Hunter Portable 3 post wasn't really much of a review. Since I barely touched the game (24 hours isn't enough to make a decent review out of it). Now that I've clocked in about 60 hours in MH 3rd I can have at least enough to make a decent enough review for the blog. (Aaaaand also add the fact that I seriously need to get away from my PSP)
writer's note: I shall refer to Monster Hunter Portable 3 as Portable 3rd, Portable 3 or 3rd so please be guided accordingly thank you! Oh also, I don't have screenshots from my actual game since there's no psp screenshot software compatible for OFWs, if there is please leave a comment here on where I can get it! Thanks!
the warning system – an added feature to MH 3rd
So, the third official installment in Capcom's Monster Hunter franchise revamps the game and provides a new series of challenges for MH veterans while providing enough breathing to make the game more accessible to new players to the franchise. According to Shin Canete, a game developer friend of mine (who I also roped in to write here from time to time) that Portable 3rd is not a direct port of Tri but rather, (in game developer language) a "pseudo port" of Tri.
To make things clear, Portable 3rd is a rehash of Tri with removed and added content.
In any case. Being the guy who purposely blindsided himself on any MH3rd news since I knew that it would take a long while for Capcom to release an english ver. of the game. I was stunned on how big of an improvement Portable 3rd is compared to it's predecessor, 2G/Unite.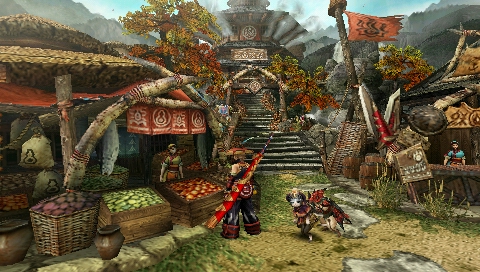 The colors are so bright!
The first that came at me once I loaded my UMD was the game was colorful BRIGHT (I don't know if there's such a word). If there's such a thing as visual overlord on a portable, I would say 3rd would be it. In 2G/Unite, you are staying at the snow covered Pokke Village while in Portable 3rd, you have the vibrant Yukumo Village to stay at.
The maps you also explore and battle monsters with are very colorful which properly sets the theme of the game. You will immediately know that this is a whole new world you're hunting at. In fact, I can say that Capcom really pushed the PSP's power with portable 3, this is really refreshing because it's been a while since a game pushed the portable's graphics power. There were times that the game felt more like a PS2 game rather than a PSP game and that's really saying something.
Weapons
One of the biggest changes Portable 3 brought was the inclusion of the Tri weapon, Switch Axe in the new weapons roster. This little baby has two forms, the axe and sword form. The axe handles like a lighter version of a great sword while the sword form handles more of a heavier Longsword. However, you can only use the sword form for a limited amount of time before you have to "recock" the sword and use get to use it again.
The sword form also utilizes "phials" which adds buffs or status attacks depending on the make of the weapon. The axe form retains the elemental damages you can find in other weapon classes but it's the sword form where the switch axe shines best.
Aside from the inclusion of a new weapon class, the move list of weapons were changed in in Portable 3. Sword and shields can now stun monsters with the shield bash, same goes to the great swords. Long swords on the other hand have the "insen" ability where the weapon's damage increases as the aura of your sword changes hue. The aura or "insen", has three stages: white, yellow and red. To be able to advance to the next "level" you have to successfully connect the fourth soul move, which is also added into Portable 3.
The bow class was also beefed up and now are able to do crag and cluster damage which were once exclusive to the bow gun variants. The bow class also has an "arrow rain" ability where your hunter shoots an arrow to the air and torrents of arrow will fall down on the target area you have set. Well placed arrow hits can also stun monsters which was unheard of in 2g/Unite.
Monsters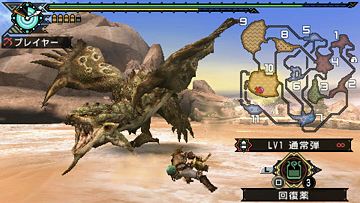 The monster list in 3rd is bigger compared to 2g/Unite's. Capcom retained some monsters from 2g/Unite and then added a whole new
roster of monsters that are exclusive to Portable 3 (e.g. Jinouga) and some who are also found on Tri (e.g. Deviljho). The new series of monsters are as colorful as the game's theme is however some of them are more visually disturbing compared to 2G/Unite's (e.g. Giginox and Hapuborokka) or maybe it's just me though.
There were changes also done in terms of the monster's movement that were not found in 2G/Unite. One example is that the monsters have "stamina" now and when they're depleted you can see your monster literally salivating (or panting if you want to call it that). A tired monster would have less lethal attacks and would stagger after an attack even if you haven't done anything to it.
This is where I think Capcom tried to make the game more accessible (sans easier) for those who are not familiar with the franchise. In 2G/Unite you have the monsters bringing barrage upon barrage of unrelenting damage all throughout the hunt even with tails cut off, faces destroyed, claws chipped and shoulders ruined. In Portable 3rd you have more breathing room courtesy of this new feature.
As an offset however, monsters in Portable 3 have a faster escape reflex compared to 2g/Unite. It's actually irritating since I'm not used to monsters escaping in Unite since they always seem to have a fight to the death philosophy in 2g/Unite. Also, monsters tend to run away faster in 3rd too so be wary of that whenever you're in a hunt.
Onsen and Sake plus Other Features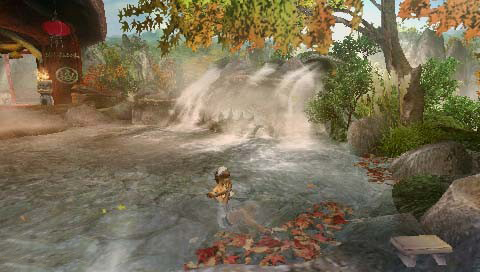 Other changes in Portable 3 include, the revamp of the dining hall. Before you have to eat at the felyne dining hall to get hp, stamina and felyne skill boosts. Now in portable 3 you can get them at the onsen (yes I said onsen, oh it's bath to you people who are not used to jap terms) for the stamina/hp boost and sake (jap beer) for the felyne skill boosts.
Also, the onsen and sake can also be leveled up through the onsen and beer quests that is provided by a felyne who manages the bath (yeah go figure). The quests there are your standard slaying and gathering quests however when you get to the bigger boost quests however the difficulty skyrockets.
In terms of the farm, there's an increase in felyne importance in portable 3rd. Most of the farm functions which you used to do are now relegated to your felynes while the quirkiness is still right there.
Aside from the Guild hall changes, the farm gets a revamp as well. You st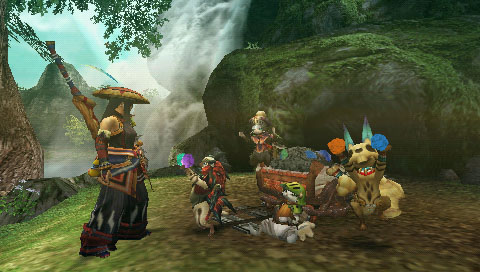 ill have the bug farming, but Yukumo has a more "efficient" way of collecting them. You don't have to go to individual bushes anymore to get your bugs, a felyne already takes care of the "collection through a bug net and lure combo. All you need to do now is set the "lure" and the "add on" to determine which bugs you can capture.
Mining through your felynes also changed. Instead of the self detonation of a felyne running through a mine area, you have a mine cart full of your felynes with axes to mine for you. It's less brutal but the comedic and cute elements are still there. Also, while 2g/Unite has Trenya, you have your felynes go explore for you. You can choose up to four felynes to go on expeditions instead of Trenya.
conclusion
Overall, Monster Hunter Portable 3rd was packed enough to make any MH veteran salivate and purchase the game (which actually happened after the game was released) from the day it was released. I actually liked how Capcom added the little tidbits of features that made hunting a wee bit easier (at least for the lower rank monsters) to entice new players.
I for one love the game and hasn't stopped playing ever since I bought the game two weeks ago (well I should stop at least for a while since I'm already backlogged as it is). While the game is still in jap, I'm thanking my brief chinese language lessons and MHF3.com for providing the necessary translations of the game. So much love to you guys at MHF3.com.
So Capcom WAI NO ENGLISH RELEASE YET!?