Thermaltake is again breaking convention with its latest chassis release for the Urban series, the Urban T81. The Urban T81 is a tower-type chassis capable of housing boards up to EATX standard.
The most notable features of this board is its focus on customization and cooling, allowing the removable of its entire drive cage rack to house a full 420mm or 360mm thick radiators. Fan allotments range from dual 200mm front and top vents or 3x120mm or 2x140mm.
Aside from the many installation options, the case also features a stylish dual-swing windowed side-panel.
The chassis is expected to retail for 170$. Local availability has yet to be confirmed.
More info on official press release below:
[toggles behavior="toggle"] [toggle title="Official Press Release"]Thermaltake, being an industry leader in computer chassis, thermal solutions, and power supply units today officially releasing the new adoption of the Urban with the new Urban T81 –Thermaltake presents an update of its Urban line with the new Urban T81 – an elegant, high-impact design. Beautifully architectured, the T81 is engineered for one solid purpose: To provide enthusiasts with the ability to build the highest performing systems while retaining a simple, elegant, and commanding appearance. It is not merely a PC chassis; it is an exemplar of modernist design.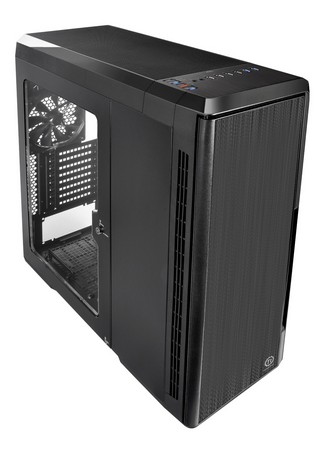 Dual Swing Door Design
Inspired by automotive "suicide doors" , the T81's novel door panels are an innovative and inspired design that sets it apart from any other chassis . Likewise, the front door panel's brushed aluminum finish masks extrusive drives and devices, producing a unified aesthetic of modern sophistication.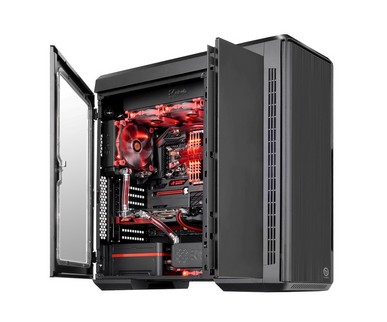 Fully Modular Concept
A highly customizable 5.25" & 3.5" drive bay enables users to freely interchange the 3.5" hard-drive cages to suit one's need, or remove 5.25" & 3.5" drive bays to gain maximum interior space for maximum airflow or the addition of liquid cooling systems
Sleek I/O Port
The sleek, brushed aluminum I/O port section provides two of the latest SuperSpeed USB 3.0 ports, along with four USB 2.0 ports. The integrated fan hub and controller can easily manage the airflow of up to 10 fans at once. In addition, HD microphone and headset jacks are positioned for easy, direct access when needed.
Supreme Air Cooling System
Urban T81 is built to optimize airflow as part of its fundamental design. Triple 200mm fans and a 140mm fan come equipped. It is the first chassis in the market that has the ability to house 4x 200mm fans, along with three more 120mm fans – allowing unrivaled airflow to protect your valuable components
Extensive Liquid Cooling Support
Urban T81 pushes the envelope by utilizing a high-end water cooling solutions. Featuring support for either front 360mm/top 420mm or front 420mm/top 360mm radiators, along with rear120mm and bottom 120/240mm radiators, the Urban T81 is an ideal chassis for extreme performance systems.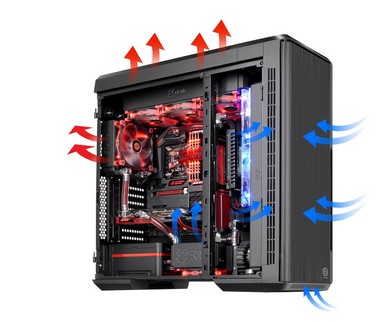 Extensive Liquid Cooling Support
Urban T81 pushes the envelope and utilize high-end water cooling solution that feature with either front 360/top 420mm, or front 420mm/top 360mm, along with rear 120mm and bottom 120/240mm radiators support for extreme performance.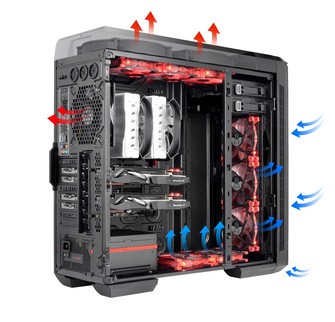 For more details on the Thermaltake Urban T81 information please visit:Â http://www.thermaltake.com/products-model.aspx?id=C_00002239
[/toggle] [/toggles]