In our previous article where we debunk power supply myths, one of the most talked about aspect of that article was in regards to the segment regarding 2nd-hand power supplies. These power supplies are a mixed bag, they may be from a reputable company or maybe not, but the biggest issue here as how they're sold. They're sometimes sold as new or open box with the description of being "True Rated"
In this article, we'll go over the topic of buying unnamed, or used PSUs and why for any self-respecting gamer that wants to prolong their investment, this is like playing Russian Roulette with your PC.
Read on to find out more on why you should invest in a good power supply.
"True Rated" Does not Mean Anything
Marked as "true rated" or good quality, the practice of selling used parts is becoming a larger market, it has ultimately caused the manufacturers of the power supplies involved to be hurt in the process. Seasonic and FSP are primarily the ones feeling the hurt from the "Korean" or "Japanese" True Rated 2nd-hand PSU market.
The problem here is that despite being made by reputable companies, how these power supplies were used is a big factor and while the supposed Japanese PSUs are usually from closed offices, some of them are actually used for mining or PC bangs or icafes. Even at the best scenarios, any kind of usage is still usage and factoring depreciation in, you're not really getting a good deal. A typical internet cafe-used power supply could be seeing 8-12 hours of usage a day every day. While that may not be different from a normal home users behavior, there is a high possibility that these units are dealing with gaming usage.
That said, their proliferation in the market has created a huge problem for users and PSU brand owners/manufacturers alike. Buyers of these used power supplies sometimes contact the manufacturer to claim warranty but due to the circumstances on how they were bought, these don't conform with warranty coverages in most situation. These tend to anger buyers who were promised that these true-rated power supplies are branded and are from good companies. The sellers usually withhold the fact that these are not covered by warranty just to close a sale.
The other kind of power supply the so-called "generic" power supplies. These are the typical silver boxes with no-name brands. If you've used a PC in the early 2000s, this could have been your first type of power supply. Back then, PCs don't even break 400W and most generic power supplies actually hold up for years but with PCs getting more powerful, its not actually about capacity anymore but efficiency, voltage stability and the quality of power flowing through the power supply units. A lot of these things aren't visible to the users and many people tend to disregard what's not tangible. In the next sections, we'll walk you through the different facets of why a good power supply is something you need to think about when building a PC.
The Power Supply's Main Function
When we think of PC building, we usually think of two main components, which are the processor and the graphics card.  We tend to spend tens of thousands on these two specific parts, which more often than not, takes up at least half our PC building budget and rightfully so. They give our PCs the muscles to drive our daily needs whether they be playing video games or doing creative work. However, with most of the budget taken up by these two components, and not to mention the storage and motherboard, most people tend to overlook the part that fuels the entire system: the power supply (PSU).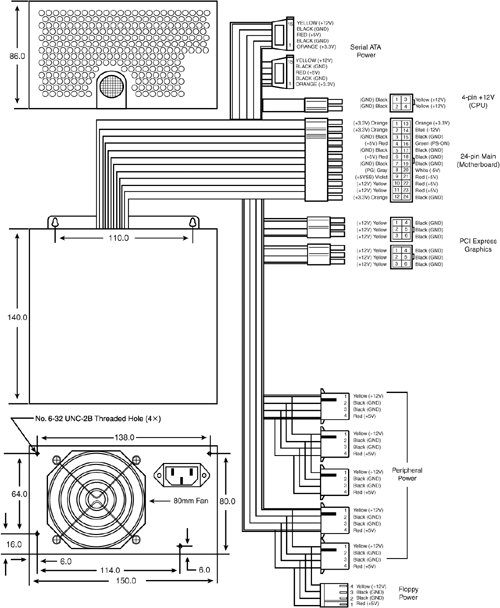 The PSU's main function is to supply adequate power to each and every one of your components whether it be an RGB strip or a graphics card. The parts you choose will dictate how much wattage or power supply output you need with stronger components such as an RTX 3090 needing more power than an RTX 2060 for example. You must select the appropriate wattage depending on your parts or you're at risk of instability issues which involve failures to boot and random shutdowns.
Without enough power, you could potentially be limiting your hardware especially when it comes to overclocking. With that said, a high wattage output does not equate to a high-quality power supply. Quality and power output are two separate categories you must account for when choosing the correct power supply.
Why Quality Matters
A good quality power supply is essential to any well-oiled system. A high wattage power supply of mediocre quality can power your components just fine in the short-term but you're at risk of potential failures in the long run. Poor quality power supplies come short in categories such as interior components, power output, efficiency and safety.
Reputable companies such as Seasonic, FSP, and Corsair, tend to sell power supplies with a 10 year warranty, which means these companies trust their products' lifespan and they are able to achieve this longevity with quality interior components. The R&D that goes into making these PSUs is amazing. I've had the chance to visit FSP's plant in 2018 which showed us in detail how they test power supplies to deliver utmost quality. Everything from the fan to the Japanese capacitors are of good quality. A power supply of poor quality will have cheap interior components such as capacitors and transistors and the lifespans of these bad quality power supplies are vastly inferior to those of good quality ones. Their warranties are also much shorter in duration than those offered by reputable companies. This means you would have to replace your power supply much more frequently in case of its failure and end up spending more money than if you'd just bought a good quality one from the very beginning. Choosing a good quality power supply will ensure you will be able to use it for a considerable amount of time without any headaches or worries.
As mentioned earlier, raw power output is also important to ensure all your components are running smoothly. The power output reputable companies advertise, for example 750W, is usually the continuous power the PSU is delivering. This means that for a sustained period of time, your power supply will deliver the needed 750W to the rest of your system. A power supply from an untrustworthy company will say 750W on the advertisement but this may just be the peak power instead of continuous power. That means this power supply will only deliver 750W at short bursts and likely cannot sustain this 750W of power delivery for a prolonged period of time. Investing in a power supply of good quality will ensure your system will always get the power it needs for a sustained period.
At the end of the day, companies pour in millions of dollars into research and development to create dependable products. A simple feature like being able to survive a sudden energy spike is usually taken for granted and you may be paying $20 more for a good PSU at the least, but that extra money has just saved your entire PC from a power surge that could've fried your motherboard which would cost you hundreds more.
Efficiency and Why it Matters
Aside from consistent power output, efficiency is another benefit quality power supplies offer. An 80 Plus certification is a must for any power supply you plan on purchasing and high quality power supplies are always 80 Plus certified. It could either be Bronze, Silver, Gold, Platinum or Titanium 80 Plus certification with Titanium being the most efficient. Either way, an 80 Plus rating means that your power supply will at worst, be 80% efficient across loads which include 20%, 50% and 100%. This high level of efficiency means that your power supply will have to draw less watts from your wall outlet in order to achieve its wattage levels. For example, a 1000W PSU at 100% load needs 1000W output in order to power a system.
A PSU that is at least 80% efficient will need to draw 1250W from a wall outlet to achieve the 1000W needed. On the other hand, a 1000W PSU that is 50% efficient would need to draw 2000W from the wall in order to reach 1000W output. The excess wattage of 250W from the 80 Plus rated power supply is far less than the excess wattage of the 50% efficient variant which is 1000W. You will save more electricity with a more efficient power supply and in turn save a few bucks in the process. The biggest advantage of an efficient power supply is in temperatures. The excess wattage from the power drawn from the wall is converted to heat and more excess wattage means more heat.
A good power supply, regardless of its efficiency, has a reliable fan to dissipate this heat which won't be too much considering its low levels of excess wattage. This significantly contrasts a bad quality power supply which will generate high levels of heat because of its inefficiency. This will lead to loud and annoying fan noises. The fans found on these cheap quality power supplies are also known to be faulty and could fail without warning after only a few years of use. This is potentially disastrous for your entire system.
We have an article about 80 PLUS and PSU certification if you want to learn more.
Closing Thoughts
BossMac: Here's a real-life example of why you should use a good power supply: I worked in the mid-2000s until around 2013. When I first came in as a junior, all the desktop in the office and plant I worked in were using generic power supplies. There was no set standard for office computers back then and 80 PLUS was just taking off. I wasn't into the tech scene back then but I was gaming on a PC. I was tasked to develop a new prescribed spec plan for the entire company. I drew up department-specific specs for specific usages, right down to what monitor and keyboard they used. It was a long-project and it took 2 years to replace much of the PCs in the office. All the new PCs had branded parts and the more non-vital ones were sourced from pre-builts like Lenovo. The DIY desktops all had a mix of Seasonic, Antec or FSP back then. During typhoon season, the remaining old-gen PCs were dying out during the brownouts and power outages not even an AVR could save them. Those on UPSs were saved but the new desktops on branded PSUs that were yet to be deployed on UPSs endured the typhoon seasons.
Ultimately, the old-gen office PCs were eventually scrapped by EOL. They had very little value and were sold off as junk. I set a 3-year EOL for the new PCs we build and by the time they were slated for replacement, their components all still held up well during our burn-in prior to disposal and many of these have not experienced a problem over the years of their operation. The EOL DIY desktops with branded PSUs were then offered to employees for sale with our IT department providing 1-year warranty. That's how dependable those units were.
---
Good quality power supplies not only power your computers efficiently, but also securely protect them from potential damage. These power supplies have better mechanisms for over current protection (OCP), over power protection (OPP) and over temperature protection (OTP) to name a few. A poor quality power supply may have mediocre forms of protection and some even have none. This could lead to the power supply blowing up or catching fire (rarely) and may potentially lead to the loss of your other components. Top quality power supplies will take the appropriate action during emergencies, which is to shut off and this ensures the longevity of both your power supply and the hardware it powers.
I'm not trying to glorify that branded PSUs are perfect. But in a 200 unit deployment like ours, I can only recall 2 units having power supply issues but we were able to get warranties for the PSUs for those. So yes, some did break but did they cause problems on the parts? Nope. Some 24/7 units were left on very light cooling and the most hardcore in the CNC department even had residue build-up on the components and kept on chugging.
Overall, it's pretty clear that the differences between good quality power supplies and bad ones are night and day. One will give you reliable components, consistent power output, high efficiency and effective emergency measures. On the other hand, the other will give you mediocre components, inconsistent power, deplorable efficiency and practically non-existent safety. The power supply may not be the sexiest or flashiest component in your PC, but it undoubtedly plays a pivotal role in the whole system. Investing in a high quality power supply will ultimately prolong your PC's lifespan and give you a well-tuned and running system.
https://back2gaming.com/guides/power-supply-myths-debunked/
So if you're looking for a recommendation, you'll find hundreds of power supplies out there but the best advice I can give is do due diligence in research about your power supply of choice. It's not that hard. Just bring up your store of choice, for example:
Then once you find the PSU that fits your budget, check if it can provide enough power to your system. You can visit Newegg's PSU Calculator for a simple wattage computation. Once you have your wattage, match it with the power supply. Say Newegg recommends we get a 400W PSU. Hmm our store here has a generic PSU for Php400? Sounds nice but as we've learned, if I'm building a gaming PC, it's just not worth it. How about darkFlash? Is darkFlash a good PSU brand? Hmmm I don't know this brand, so better check them out first. Google doesn't ring up much info about their topolgy and manufacturer. In these instances, searching for more review might help. But if nothing comes up, its best to avoid for now.
There's the FSP 550Ws that's 80 Plus certified. Hmmm that's easy to get behind. What else do we have… the Silverstone looks nice but this is an older model. Oh look, another FSP model. Its 80 PLUS again. You can keep scrolling, repeating the process. It can be tedious, but it saves you the headache if and should your PSU up to snuff.
If you don't feel comfortable, usually the warranty always covers you but its best to reach out to builders you may know who have done these for years. You can contact me via the Back2Gaming Facebook page if you need consulting on which power supply is the best for you.
Leave a comment if you think we missed something and stay updated for the next entry in our PSU series of articles where we'll discuss what you should know when choosing your power supply. We already know to pick a quality one, so now we dig down through the details.